NAVIGATION
Home Page
The tiny village of Coddenham in Suffolk, England is host to international observatory number 234.
These pages will help you to understand and follow the work of the Coddenham Observatory and its builder Tom Boles, in the search for and research of Supernovae .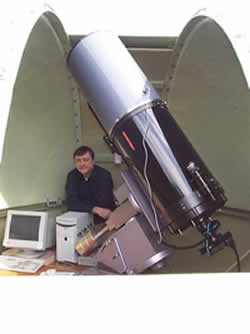 To find your way around, simply follow the links on the left or click on <next> near the bottom of each page.
Tom Boles searching for SuperNovae at the Coddenham Observatory observatory, coddenham, supernova, supernovae, tom boles, patrick moore, astronomy, astronomical,
apogee, ap7,celestron, paramount, charles frank. Coddenham astronomical observatory managed by Tom Boles and opened by Patrick Moore, searching for supernovae using apogee ap7, celestron and paramount equipment, contributes to astronomy research. Tom Boles searching for SuperNovae at the Coddenham Observatory